SmarterAgent is the most widely used mobile SaaS platform in the real estate space

According to NAR, the majority of consumers use a mobile device to search for homes. Smarter Agent helps real estate companies and agents make this transition to a fast growing mobile world. We make the path to mobile easy. With Smarter Agent, our customers do not have to overhaul their legacy software systems or keep up with fast paced new technologies. Via our SaaS platform we provided access to a single unified platform with mobile apps, marketing, data, web technology and continuous innovation.
Our innovations increase your sales.
Through our platform, our customers can get a mobile solution that can uniquely brand to anyone within the organization, empowering their entire team to distribute their own personalized app while remaining brand focused.
Smarter Agent has a history of innovation. Smarter Agent began by building best in class search and discovery mobile tools winning multiple awards within the real estate and mobile space. Today, operating as a turnkey software as a service (SaaS) solution, Smarter Agent allows companies to deploy and operate their own mobile strategies without large up-front capital expenditures. At the same time, it allows them to gain continuous innovation and spending control while having their own highly rated apps for any consumer to use.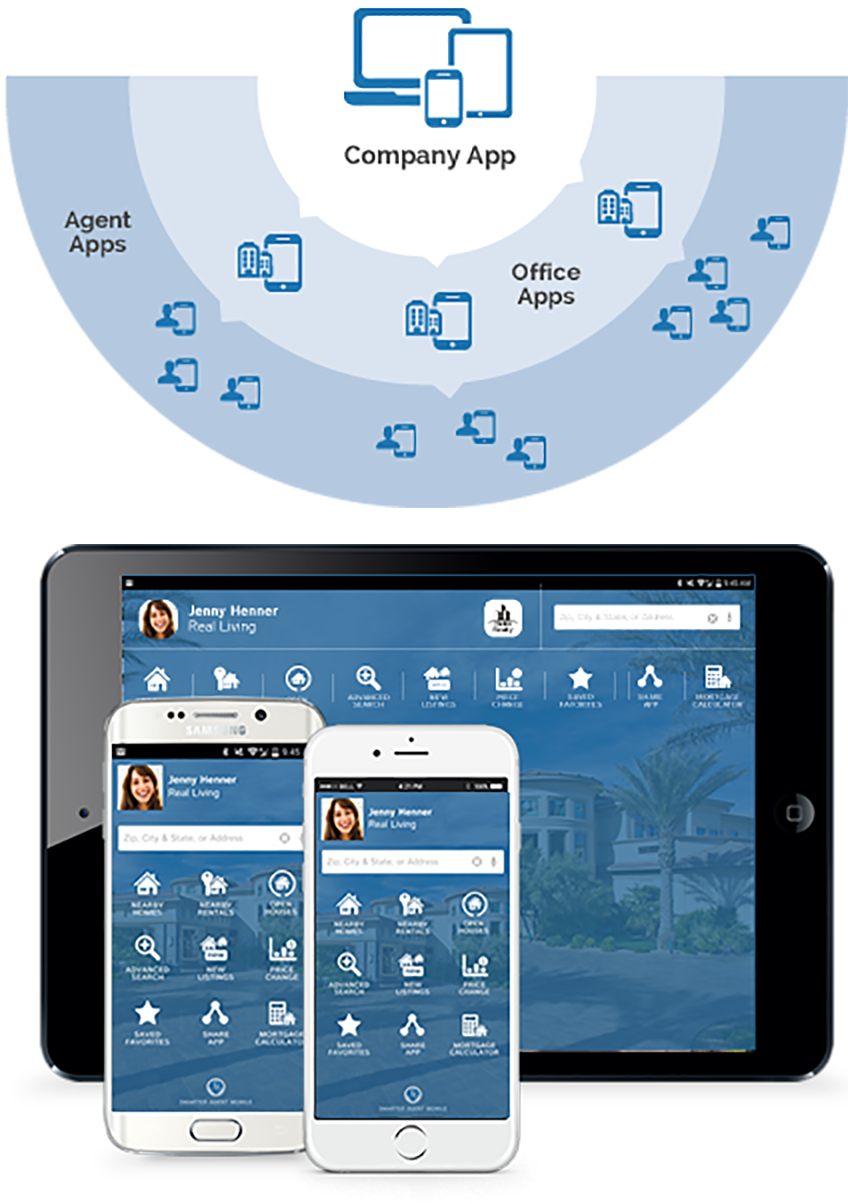 Through the distribution of branded 'linked' apps by individual agents to their clients, we have learned a company can increase their overall reach by over 50%.
Smarter Agent was the first to introduce a cascading platform for mobile app delivery. With this app creation and linking technology, any global brand with a local presence has a way to maintain design and business rule control while providing personally branded apps to all their agents across the country or globe. This works great in the real estate sector which is inherently a one to one locally focused business.
The company and each agent app can be customized, updated and analyzed in real time with unique individual sub-branding, business rules, data, content, sponsors, and distribution paths. Agents, for example, benefit from real time customer interaction and collaboration while the company can manage and operate their master app and have system-wide marketing and analytic capabilities.