How this Manhattan Broker Shifted to Stand Out in a New World
---
All across the country agents have felt the impact of the covid-19 crisis. New York was one of the earliest major cities affected, but most recently, one of the earliest to begin to bounce back as NYC always does. For Rob Gross of Douglas Elliman Real Estate, this is no different. Whether it has been climbing up on his city rooftop to film a listing teaser video or building a close network of developers and architects over his past 34 years in Manhattan real estate, Rob has always found a way to not only shift, but shine – even in uncertain times.
"Your relationships are your #1 asset in this industry. To stay top-of-mind you can never stop building your brand. That's why I use my Douglas Elliman App (powered by Smarter Agent). My app reinforces my brand and because it's Douglas Elliman – it's a tool my clients are more likely to trust and use for their search."
I loved chatting with Rob about adapting to new tech and utilizing social media to keep his clients up on market fluctuation and why he thinks NYC will come back better (and more educated) than ever.
Here are Rob's tips to stay current for your clients:
Consistency Builds Your Brand (and Clients)
"Even after 34 years in real estate, I never stop trying new things – like consistent social media engagement. In the midst of lockdown I had a very high end listing. I wanted to share it, but how could I when I couldn't even get into the building? How can I still talk about my properties? I came up with the idea of filming a flip chart video where I jump into the frame and share a listing or a market update. It really works, because the data behind it is intriguing and the presentation is attention grabbing. I now post one every Wednesday and my followers now expect it and are up by 25-30%."
---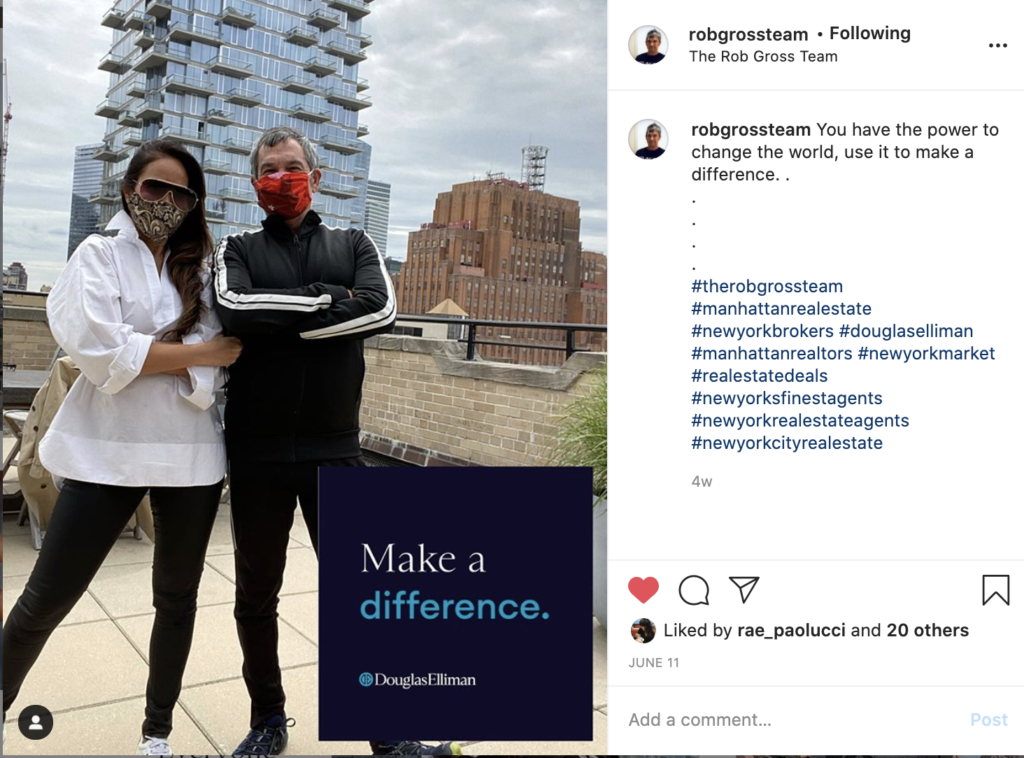 Rob and teammate Maria Andrade show how they are staying safe while doing business.
---
Your Phone is Priceless – Especially Now
"Nothing beats a personal connection and you can make more of a connection on the phone any day than over email or texts. Over the years I have built a strong referral game by calling my Sphere of Influence – daily.
Pro tips: Do some research before you call. Know the name of their dog or ask about their new job. – make it about them and it will come back to you. Rember, you are providing a service, you can and will bring value to the experience. Stand up when you call, take a deep breath and smile when on the phone. Don't think about deals, think about the relationship. It's the relationship that drives business."
My App is Quick and Easy
"I love to use my app because it is the quickest way to get the most current property information. I can easily grab a snapshot of new listings pertaining to my client's needs and specifications and then I can share the data directly to them."
---
---
Data is the Currency Right Now
"Information and being up to date daily is the currency that fuels success and makes you a standout right now. I need to know trends and hard data to be ready to answer client questions in many different areas as the market fluctuates daily at this point. Using my app gives me that access."
You Must Adapt to Stay in Business
"We are living in a unique time and place and it's important to be a part of it. I have seen New York go through many shifts. I know the market will come back and I will be ready because I adapted to all that has changed. I am doing things now that I have never done in my career by choice, but I have learned so much in the last 5 months. Adapting to use new tech like my app and expanding on social media will keep me relevant now and in business for years to come."
---
Rob leaves us with his thoughts on our changed world and the future of our industry.
"It's important to be sensitive to issues, but also to positively accept that as brokers we still have a job to do and a service to provide. The equity lost will be regained; many of the people migrating away will once again realize why we came. Covid simply accelerated the use of technology and remote work and we now have a jump on it. We don't have complete certainty, we never did, but I certainly have great faith in the city I work in and the people who choose to call it home."
---
Thank you Rob for sharing your wisdom with us! Follow him @robgrossteam and download his app if you are in the New York metro area.
---
Have an app? Use it to remotely connect with your clients – take a LIVE webinar to sharpen your skills. Sign up here.