How this Top Agent is Using Social Media to Keep Up with Clients [Remotely]
---
Take one scroll through Whitney Harvey of Real Estate Partners' Chattanooga social media and you will instantly feel like you know her. It is this authentic approach that has not only made her an online success, but also has helped her to build an expansive repertoire of clients over the past 6 years.
Not only is Whitney a top agent, but she recently earned "Partner Of The Year" at her company for always reaching out a helping hand to fellow agents [and of course clients]. Whitney strives to connect with every client as if they are family, so much so that she has attended first birthdays and has even been invited to the hospital after a client's baby was born – all joyous (in person) occasions not possible at the moment.
Luckily Whitney's strong online presence and app sharing has enabled her to keep the bond with her clients [virtually] through any amount of social distance.
Get Whitney's online tips here:
Step Out of Your Comfort Zone
"When I started out in real estate, no agents were really using social media for their business. I figured I would try different things, be creative and get personal. I'm kind of quirky and I found that when I would share about my self, house projects I was working on and connecting with my clients, it really started to click and made me stand out from my competition."
---
Whitney includers her contact information below every post for easy client access.
---
Follow Clients Back on Social
"Social media and tech is crucial to keep in touch with clients during this time. After I meet a lead or client I immediately follow THEIR social media. This way I can check in, comment on what they are up to (during quarantine), keep up with birthdays, babies being born, anniversaries and life events – it helps me form a bond with clients and keeps me top-of-mind for years to come."
Share Your App and Your Contact Info [as much as possible]:
"My clients love the app. When our firm first got it they told me that I had won the contest for having the most shares. I definitely think the app makes home searching easier for my clients, they are able to favorite properties and then it notifies me directly through the app. I like that it gives me an idea what style and type of property my client is interested in."
---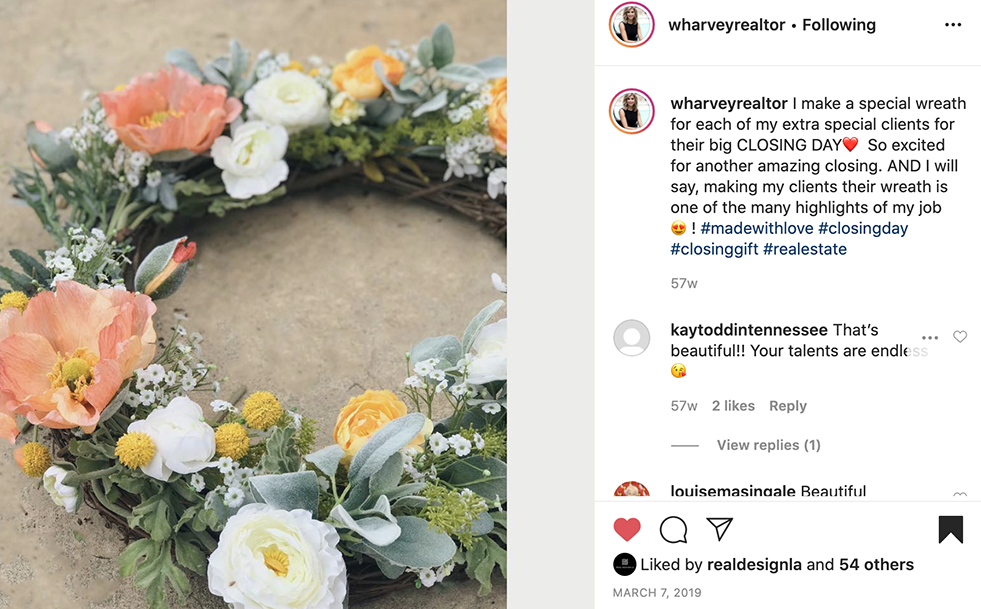 Whitney hand makes a unique "Closing Wreath" for each client and posts it to her social media.
---
Be Community Focused
"Last week I posted that there was a local restaurant selling margaritas to-go and people went crazy for it online. Posting about positive community happenings keeps you top-of-mind and has the ability to unite people even while while being stuck at home. It gave my followers something to look forward to and gave the local restaurant a publicity boost!"
Make It Personal
"One of the highlights of my job is making a "closing wreath" as a personal gift for my clients. It gives that extra special touch people remember."
"I try to share my app with anyone I speak with interested in a new real estate endeavor, especially now that I can't work with them face-to- face!"
---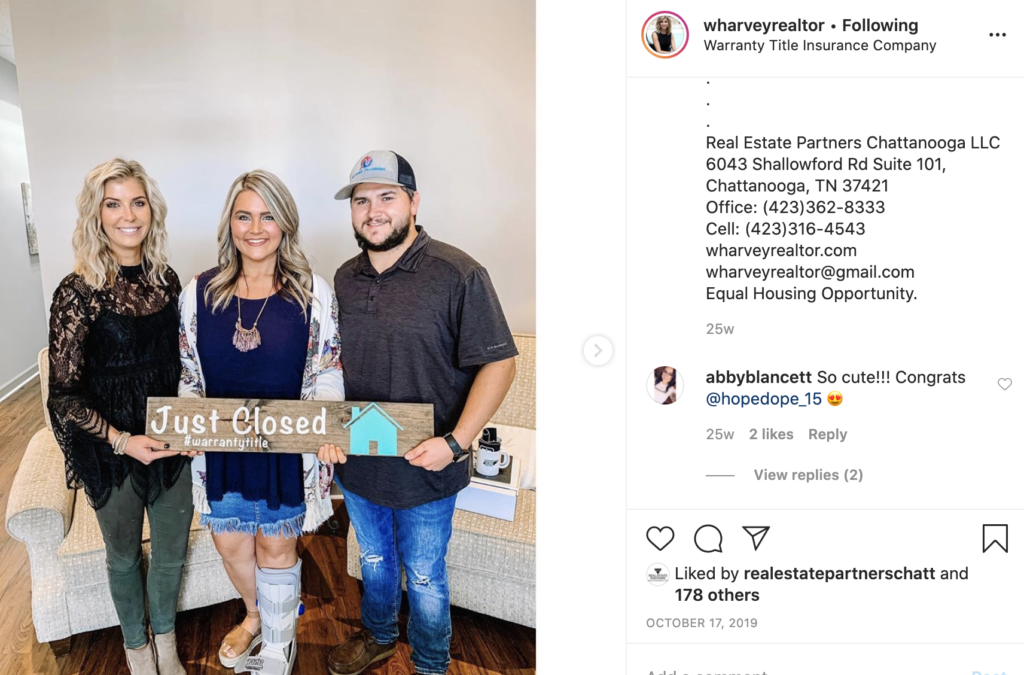 Following clients online helps Whitney to keep up with their key life events.
---
Thanks Whitney! Follow @wharveyrealtor on Instagram or download her app if you are searching for a home in Tennessee.
---
Have an app? Use it to remotely connect with your clients – take a LIVE webinar to sharpen your skills. Sign up here.