How to Use Your App like a Multi-Million Dollar Producer
---
As a new member of the Million Dollar Producers club and having recently landed herself in the top 13% of agents in the largest company South of Birmingham, Brandy Carney of Roberts Brothers, Inc. in Alabama has grown her repeat and referral business in half the time it takes your average agent – and has no plans of slowing down any time soon.
"No matter what level you are at, 90% of this business is prospecting, and anyone who tells you different is pulling your leg. But if you are a tech enabled agent and use the right tools like our Roberts Brothers App (powered by Smarter Agent) there is no need to spend hours slaving away at it."
Brandy shares with us how she leverages her app to work for her and puts her marketing on autopilot to have more time to do what she loves most – engage with her clients!
Here is how Brandy uses tech to work smarter not harder:
Let Your App Do The Work For You
"My app allows me to look professional to clients, especially when they open it and see the Roberts Brothers logo front and center. I start with working the app into conversation and explain the benefits of the GPS feature. The GPS is my favorite because it immediately engages them to use MY app over another. If they have an area in mind I have them drive there, pull up my app and it has the ability to find them houses in that neighborhood. On the flip side, I have had clients think they loved an area, the app takes them there and they realize they don't like that neighborhood at all. It works great – my app recommended properties and eliminated an entire neighborhood for my clients and I didn't even leave my house – it did the work for me!"
---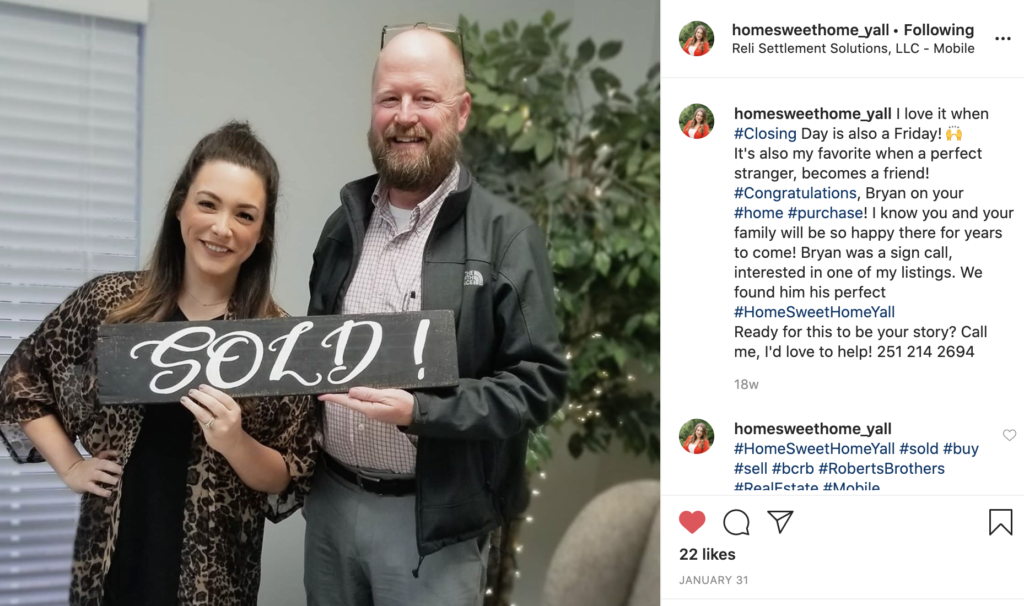 Brandy schedules her posts for the month so she has more time to engage with her clients.
---
Stay in Front of People – Consistently
"One of the reasons I have had success early in my career is because I stay in front of people – consistently. My app in combination with social media is a fantastic marketing tool. I deliberately show up on people's social media multiple times per week to stay top-of-mind. My app is a great topic because it shows my followers that I am tech enabled and it is an opportunity to explain how my app can benefit them – instant value add!."
The Perfect Tool to Get Listings
"I started to position my app in my presentations as a selling feature. It shows my prospects that I have cutting edge tech to get their home sold quickly for the best price. I put together a simple infographic about my app that I use in my listing appointments, buyer consultations, and display at my open houses so they can easily see the app benefits and grab my download link on the spot."
---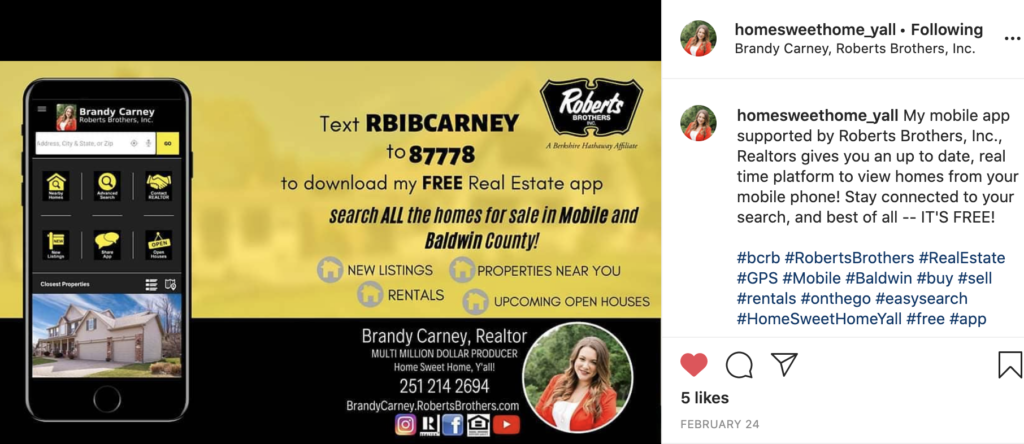 Brandy posts about her app and includes it in her marketing materials for more app downloads.
---
Automate Your Social Media – to Save Time
"Social Media is free advertising. It's crazy for agents to not take advantage of it! I suggest to my mentees to pick one day to schedule all of your posts for the entire month. This way you are active on social and staying in front of your sphere, while having more time to engage with your followers and run your business."
Use Your App as a Value Add
"My app is another level of service I can offer to my clients that all companies do not offer. Having the latest tech available is one of the many reasons that I love being a part of Roberts Bros. I have a hand out about the app that I put in my packets to show yet another value add to sell their home beyond my competition."
---
Brandy is hopeful as the nation reopens and the market continues to pick up. "I know that I have to be with my clients right now. People may not be thinking of buying at this very moment, but this allows me to be more intentional with my time and marketing efforts. I am still staying current on social media, sending out mailers and sharing my app!"
---
Thanks Brandy! Follow her on Instagram @homesweethome_yall and reach out to her if you are looking for a home in the georgeous Gulf Coast.
---
Have an app? Use it to remotely connect with your clients – take a LIVE webinar to sharpen your skills. Sign up here.